Public Lifts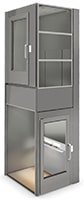 Aritco Public Access Lift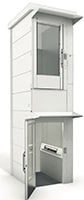 Aritco Outdoor Lift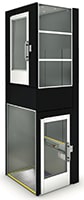 Aritco Goods Lift
It is an ethical and legal responsibility to provide all person's equal access to all areas of any building, either commercial, public, or domestic. So, it goes without saying commercial and public buildings with multiple floors should have a lift installed.
An Aritco PublicLift Access platform lift can provide a suitable access solution to a new or existing building, with no requirement for top headroom, a deep pit, or separate machine room.
Every platform lift, designed and built with outstanding comfort, quality and safety in mind, includes a variety of options to suit new and existing buildings perfectly.
Our range of platform lifts, both functional and elegant, surpass all standards for commercial, domestic and public access.
With Indoor, Outdoor and Goods models, the PublicLift Access platform lifts suit most demands and environments.
Main features include:
Compliant with Building Regulations Part M and the Equality Act (formerly DDA)
Travel height: 250mm – 13,000mm
Number of stops: 6
Entrances available: 1, 2 or 3 sides
Pit depth: 50mm (ramp can be supplied if pit not available)
Top height: 2,240mm (1,100 – 1,600 with half height door)
Platform sizes: 8 available
Environment: Indoor or Outdoor
Emergency lowering: Battery operated
Power supply: 1 phase 230V 16A / 3-phase 400V 16A
Rated load: 250, 410 or 500kg
Our Public Lifts
Publiclift Access - Indoor
The Aritco PublicLift Access platform lift is designed to provide reliable and safe access for everyone in public and commercial buildings.
Practical and smart with sizes for all needs.
With customization possibilities, such as glass shaft walls, a range of colours and different flooring materials.
---
Publiclift Access - Outdoor
The Aritco PublicLift Access platform lift can be installed outdoors, if indoor space is restricted.
Based on the indoor platform lift, with the added features:
Shaft roof
Door canopies
Shaft ventilation fans
Shaft heater (for cold climates)
Available for 1100 x 1480 platform only
---
Publiclift Access - Goods and Passenger
The Aritco PublicLift Access platform lift can be uprated to carry goods as well as passengers.
Based on the internal platform lift, with the added features:
90mm steel kerb around platform edge
Aluminium checkerplate flooring
Platform safety edge and safety bar painted bright yellow
Available for all 8 platform sizes